BECOME A CHARTERED BANKER IN 18 MONTHS!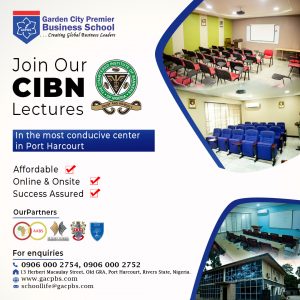 The Chartered Institute of Bankers (CIBN) is the professional body for bankers in Nigeria.
You become addressed as ACIB when you have passed the Chartered banker examinations and inducted as an Associate of the Institute.
We at Garden City Premier Business School, as part of our vision of building global business leaders, have identified the need to help you go through this process conveniently and successfully.
Our believe is that:
1. You want a safe and affordable center
2. You want a center that offers Online and    On-site classes 
3. You want a center where success is assured
Join our team of Professional Bankers!
CIBN candidature is open to all individuals from all disciplines and all sectors of the economy who are interested in becoming Professional Bankers provided they meet the minimum qualification requirements approved by the Governing Council of the Institute.
Become a Professional Banker!