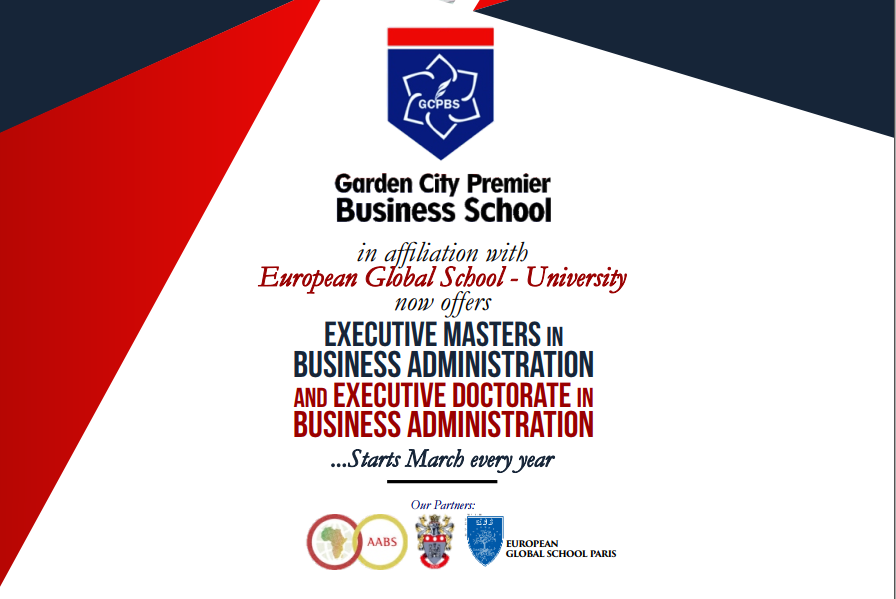 EXECUTIVE MASTERS IN BUSINESS ADMINISTRATION (EMBA) AND EXECUTIVE DOCTORATE OF BUSINESS ADMINISTRATION (EDBA)
A flexible executive MBA and DBA for working professionals. Pursue your career while earning a European Global School, Paris accredited degree in Port Harcourt that will elevate your career to a new height with the following benefits:
Ÿ Leadership skills that enhance effective collaboration.
Ÿ Deeper understanding of the factors that cause organizational dysfunction and how to change them.
Ÿ Mastery of the business vocabulary and skills applicable to any type of business and non-business organization.
Ÿ Personal growth through close interaction with faculty and peers in and out of classroom.
Ÿ Build the skills, knowledge, and network you need to increase your salary and succeed in the global stage.
EMBA MODULES
(18 MONTHS-8 FULL WEEKS OF CLASSES)
Ÿ Module 1- Business and Management Practice
Ÿ Module 2-Research and Governance
Ÿ Module 3- Management Competency
Ÿ Module 4 – Specialization and Competency
EDBA MODULES
(36 MONTHS-4 FULL WEEKS OF CLASSES)
YEAR 1:
Ÿ Module 1-Research and Business Management
Ÿ Module 2- Specialization and Competency
YEAR 2:
THESIS ONE (CAPSTONE PROJECT)
YEAR 3:
DISSERTATION
ADMISSION REQUIREMENT
Ÿ Five credit passes including English and Mathematics at the Ordinary Level
Ÿ Minimum of a second-class Lower degree from a recognized university
Ÿ Minimum of three year's post qualification( including NYSC)
Ÿ Competitive GMAT or GRE test score SUPPORTING DOCUMENTS ADMISSION REQUIREMENT
Ÿ Proven intellectual, imaginative, problem solving and research capacity For more information, please contact
Ÿ 2 passport photographs
Ÿ Evidence of ability to pay tuition ( kindly indicate annual income)


SUPPORTING DOCUMENTS
Ÿ Two references from two referees who know you in your business and professional pedigree
Ÿ Curriculum vitae
Ÿ University degree certificates (Statement of result is Acceptable)
Ÿ Official Transcripts are required after admission
Ÿ Copy of NYSC Certificate or Letter of Exemption (for Nigerians only)