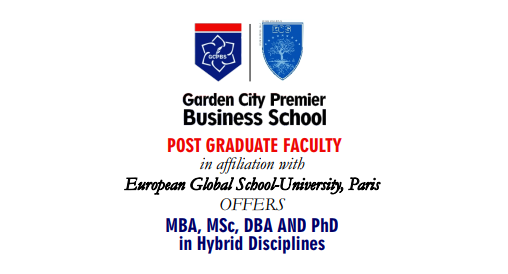 MBA, MSc, DBA AND PhD Programmes in Business Administration, Strategic Management, Strategic Marketing, Project Management, Petroleum Economics, Industrial Economics, Industrial Economics, Business development and Entrepreneurship, Accounting, Finance, Logistics and Supply Chain Management, Corporate Governance, International Business, Leadership Development, Leadership and Human Resources Management Etc.
Pursue your career while earning a European Global School, Paris accredited degree in Port Harcourt that will elevate your career to anew height with the following benefits:
Leadership skills that enhance effective collaboration.
Deeper understanding of the factors that cause organizational dysfunction and how to change them.
Mastery of the business vocabulary and skills applicable to any type of business and non-business organization.
Personal growth through close interaction with faculty and peers in and out of classroom.
Build the skills, knowledge, and network you need to increase your salary and succeed in the global stage.
MBA/MSc- MODULES (18 MONTHS).
MODULE ONE- Business and Management Practice
MODULE TWO-Research and Governance
MODULE THREE- Management Competency
MODULE FOUR – Specialization and Competency DBA/PhD-(36 MONTHS)
YEAR ONE:
MODULE ONE- Research and Business Management
MODULE TWO- Specialization and Competency
YEAR TWO:
THESIS ONE (CAPSTONE PROJECT)
YEAR THREE:
DISSERTATION
ADMISSION REQUIREMENT
Five credit passes including English and Mathematics at the Ordinary Level
1. Minimum of a second-class Lower degree from a recognized university
2. Minimum of three year's post qualification( including NYSC)
3. Competitive GMAT or GRE test score SUPPORTING DOCUMENTS ADMISSION REQUIREMENT
4. Proven intellectual, imaginative, problem solving and research capacity For more information, please contact
5. 2 passport photographs
6. Evidence of ability to pay tuition ( kindly indicate annual income)
SUPPORTING DOCUMENTS
1. Two references from two referees who know you in your business and professional pedigree
2. Curriculum vitae
3. University degree certificates (Statement of result is Acceptable)
4. Official Transcripts are required after admission
5. Copy of NYSC Certificate or Letter of Exemption (for Nigerians only)