The Institute of Chartered Accountants of Nigeria (ICAN)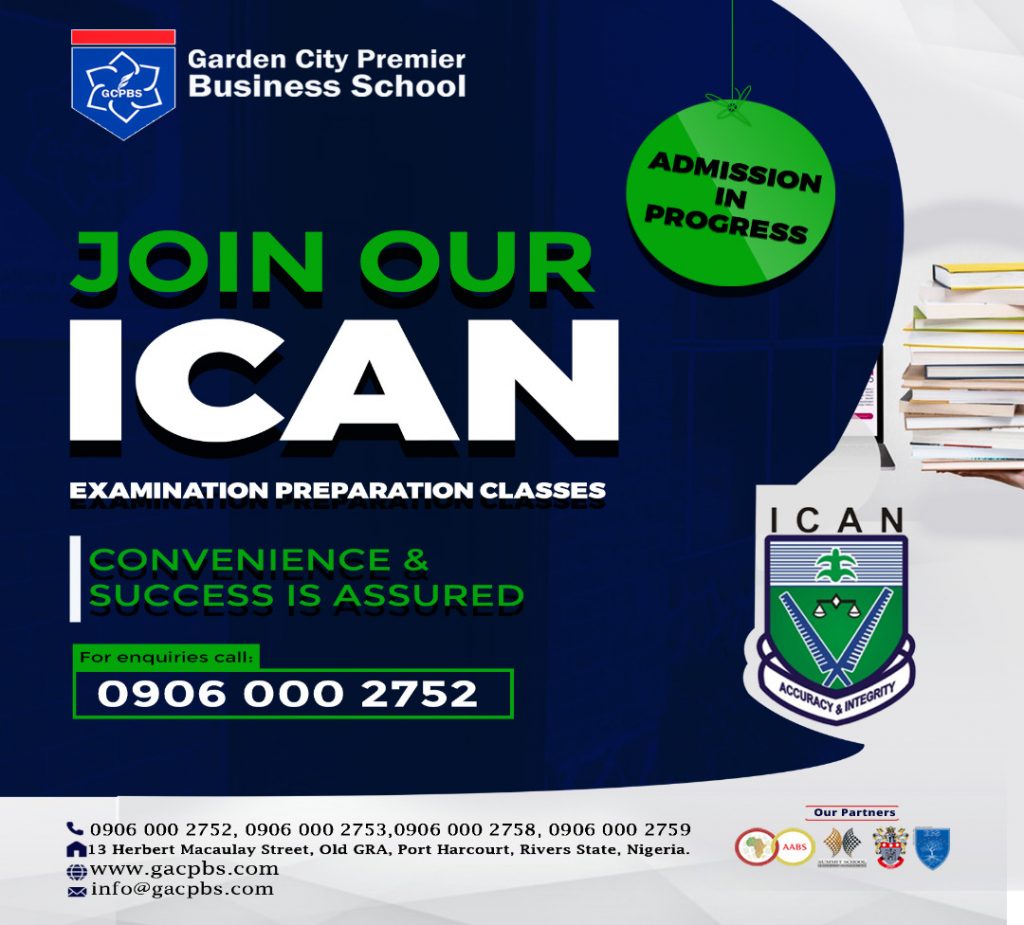 is the first professional body for accountants in Nigeria. Established by an Act of parliament effected September 1, 1965.
There are two routes to become a student accountant with ICAN.
Join ICAN as an ATSWA Student
The acronym ATSWA means Accounting Technicians Scheme West Africa. This was introduce by ICAN in 1989 to increase qualified middle level manpower.
Candidates that successfully completed the examinations will be issued the AAT certificate. This certificate has been certified by the Federal Ministry of Establishment in Nigeria as equivalent of the National Diploma of Polytechnics and Colleges of Technology in the Federal Scheme of Service.
The minimum qualification for joining as an ATSWA Student is Senior Secondary School Certificate (Minimum of 5 credits, including English and Mathematics). Ordinary National Diploma of any Polytechnic recognized by the Council of the Institute, Diploma from recognized Universities and National Certificate of Education (NCE) from recognised College of Education are offered exemptions from some of the ATSWA examination subjects.
Join ICAN as a Professional Student
To register as a student with the Institute, an applicant must hold a qualification not below University degree or its equivalent.
You become addressed as ACA when you have passed the professional examinations and inducted as an Associate of the Institute.
Garden City Premier Business School is an internationally accredited business school located in Port Harcourt, Nigeria that provides professionals, executives, academics and business people with professional and management education across the private and public sectors.
As part of our vision of building global business leaders, have identified the need to help you go through this process conveniently and successfully.
We'd love you to join us!
Become a Professional Accountant!
We are all about learning, motivation and celebrating wins.
You are in the right place.
Get more details about our study Team
Please Confirm your email address and add us to your contact list. This will make it easier for you to get the details.
You will receive emails that will provide more information about the CIBN examinations and our study team.
We may also request some additional information from you as we get to know each other. This information is intended only for the purpose of this program.
Garden City Premier Business School has a global perspective, approach and international collaborations as well as renowned academic and professional staff and partners. We wholeheartedly take this holistic perspective as our responsibility for training people who will add value to the global business environment.
COMPLETE THE REGISTRATION FORM TO REGISTER FOR ICAN