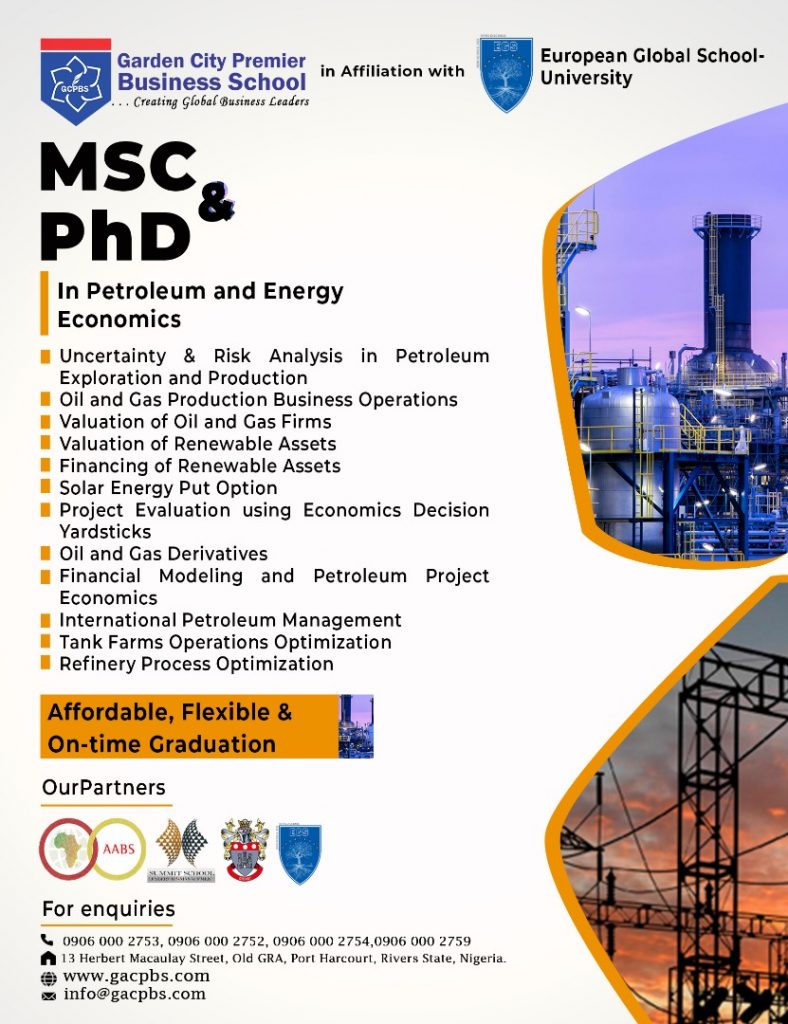 Advance your career, have a good grasp of the global petroleum market, and enhance your analytical skills on local and international oil and gas policies and energy-related issues with an MSc/PhD Petroleum and Energy Economics. 
In partnership with European Business School in Paris- France, Garden City Premier Business School offers MSc/PhD Degree in Petroleum and Energy Economics.
Purpose
This course aims to provide an overview of the petroleum sector so that participants would understand the oil operations and business, from upstream to downstream, and identify economic challenges.
Audience This course is geared towards people from the energy and petroleum sectors, industrial partners, business men and financiers, as well as public administration staff.
Learning Objectives/Benefits
Upon completion of the course, participants will be able to:
Describe the different types of energy resources (conventional, unconventional, renewable & fossil),
Interpret the evolution of the factors affecting the energy supply and demand (crude prices, technology, reserves, geopolitics, geography, environment, etc.)
Enhance their position in the petroleum industry and facilitate their career growth
Identify the actors of the energy scene and their strategic guidelines
Describe the main steps of the upstream sector, distinguish the different types of oil contracts and explain the main economic criteria to evaluate oil and gas project
Summarize the operation of the physical and financial oil markets
Explain the evolution of the refining sector and of the petroleum product markets.
Learning Methodology
Hybrid of Real-time online/on-site classes
Intensive lectures
Case study
Role playing
Term papers & Presentation
Duration: 

MSc: 12 Months of Coursework & 3 Months of Dissertation
PhD: 27 Months- Coursework, Thesis writing, Paper Publishing, and Seminar Presentation
COMPLETE THE REGISTRATION FORM TO REGISTER FOR THE MSC / PHD IN PETROLEUM AND ENERGY ECONOMICS.