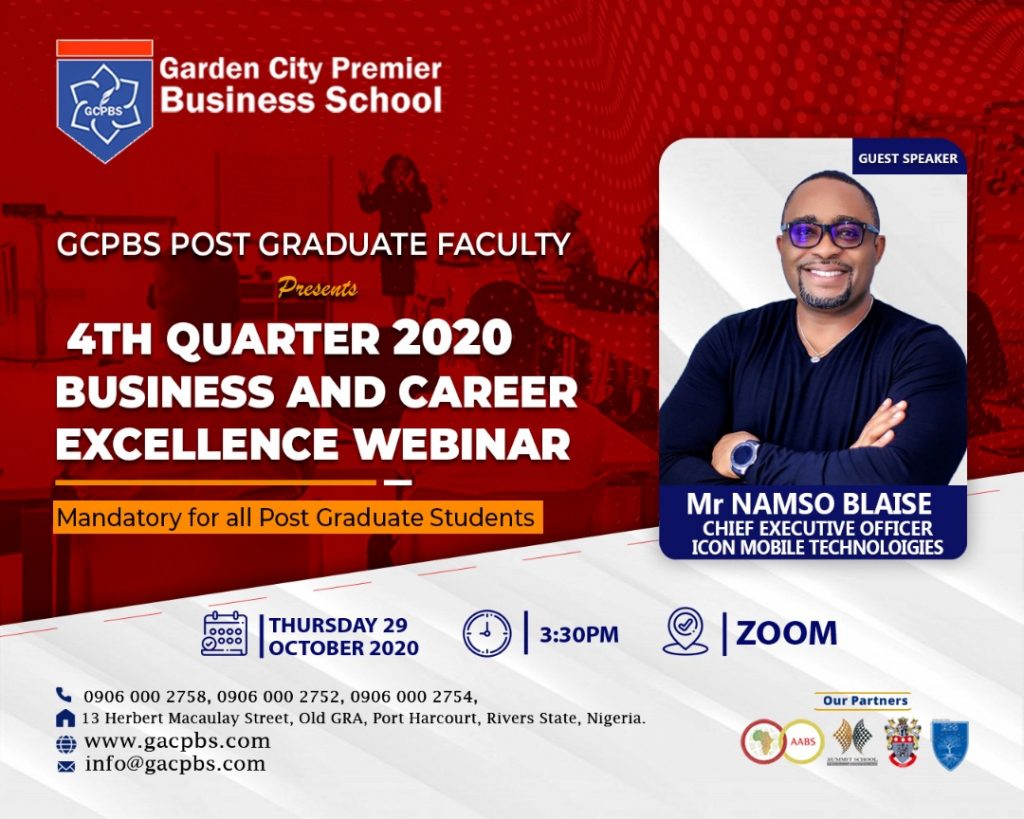 The Business and Career Excellence Webinar Series are GCPBS institutional based capacity building, trainings and conversations between the Post Graduate Faculty and Distinguished Entrepreneurs.
Garden City Premier Business School in the quest to achieve its strategic intent of creating global business leaders has put in place a creative curriculum for all its post graduate students to transform their businesses and careers during and after their studies with us. As part of measures in strengthening the classroom teaching and the various theoretical frameworks, this webinar is a bridge builder that bring practical relevance to the studies.
At a macro level, our goal is to provide a focused and practical skills based educational system, instrumental to contributing to Nigeria's economic growth by means of suitable manpower production that is relevant to industry, society and the changing technological work environment.
Through this engagement, we attempt to close the widening gap between those who have access to opportunities and those who are denied from the new economy jobs.
The 4th Quarter 2020 Webinar will be anchored by Mr. Namso Blaise, the CEO of Icon Mobile Technologies Ltd. He is a Petroleum Geophysicist and have worked in the Oil and Gas industry for 20 years. He has BSc in Physics and MSc in Geophysics. He has been involved in mentoring and supporting young entrepreneurs for the last decade.
COMPLETE THE REGISTRATION FORM TO REGISTER FOR OUR BUSINESS AND CAREER EXCELLENCE WEBINAR.